We are CNS, where
knowledge comes to life.
We are CNS, where
knowledge comes to life.
We are CNS, where
knowledge comes to life.
We are CNS, where
knowledge comes to life.
We are CNS, where
knowledge comes to life.
WELCOME TO CHATRABHUJ NARSEE SCHOOL
We are a coeducational school for children aged three to eighteen years. Our schools are situated in locations that are close to nature on sprawling campuses. We are founded on the core competencies that are pertinent today and will be relevant for years to come – critical thinking, problem solving, creativity, powerful communication, collaboration & the nurturing of an environment where emphasis is placed on respect, empathy & bonding which will enable students to contribute effectively throughout their lives.
A 21st CENTURY INSTITUTION
AN INTERNATIONAL EDUCATION
At the heart of any international curriculum lies the mission of preparing 21st century learners who are open minded, empathetic, and reflective, who contribute fruitfully to creating a better world. The International curriculum is skill based and aids in the holistic development of the learners. It inculcates in them a passion for life-long learning.
DAY CARE FACILITY
Designed to be a home-away-from-home, the in-house Day-care Centre at Chatrabhuj Narsee School provides a state-of-the-art facility for parents who want to ensure that their children are happy.
PHYSICAL EDUCATION
A sound mind resides in a sound body, and taking this maxim further, sports and games are given the same importance as academics at CNS.
ALL ROUND DEVELOPMENT
Holistic and all-round development is only possible if the students are provided with opportunities to explore their talents and skills. At CNS, these opportunities are provided in the form of Hobby clubs, after school activities, inter house competitions, interschool competitions, celebration of important days, debates, elocutions, MUNs etc.
LIFE AT CNS
Our endeavour is to teach in a supportive and convivial learning environment which will facilitate knowledge and skills essential for the learners to reach their highest potential. Through a wide range of sporting, cultural and cocurricular activities we nurture the creative potential of the students and celebrate their unique talent.
We have state of the art campuses with excellent faculty, to enable our students to be happy and successful. We have consciously designed our infrastructure around academic and extracurricular activities, so that the students have scope for development not just in academic fields, but in other forms of physical and creative expression as well.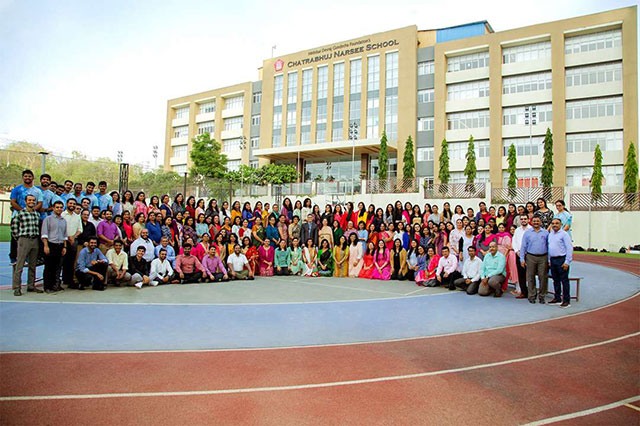 CNS has been nothing short of perfect for my daughter. The teaching faculty is extremely dedicated to consistently delivering the best quality education, engaging children by inculcating innovative methods in the learning process.
Archana Dande
Mother of student in Grade 12
We enrolled our son 3 years ago in Jr. KG at CNS. In these three years we have realised that the teachers of CNS are kind, patient and extremely talented. With their constant encouragement we noticed that our son (currently in Grade 2) from being shy and not so comfortable on stage in front of a large audience had become a vibrant, confident, spirited child by the end of Sr. Kg.
Shweta Parmar
Mother of students in Grade 2 and Nursery
I am a very proud Parent of Chatrabhuj Narsee School – Mumbai. At the outset let me congratulate you all wholeheartedly for being a truly child centric, child focused and child friendly school and for bagging so many awards for the Best School and completing 5 years!! It's overwhelming to see our kids shine so brightly with confidence. It is exactly this training that our kids will benefit from for many years to come – this has been an important foundation in their lives.
Shrestha Mayank Madhani
Mother of students in Grade 6 and 10